ベンジャミン・リスト博士の2021年ノーベル化学賞受賞を記念したパネルを制作、公開しました。受賞決定から約半年間のリサーチと取材の内容をまとめたもので、1枚目では受賞の内容、2枚目ではリスト博士の人柄や考えをお楽しみいただけます。総合博物館、セイコーマート北海道大学店、インフォメーションセンターエルムの森、百年記念会館、創成科学研究棟で展示します。また、データを北海道大学学術成果コレクション HUSCAPからオープンソースとしても公開中です(ダウンロードはこちら)。どうぞさまざまな場面でご活用ください。
※現在はセイコーマートでのみ展示中です。他の場所に関しては調整中です。
CoSTEP, Hokkaido University, created a pair of panels commemorating Dr. Benjamin List's 2021 Nobel Prize in Chemistry. You can enjoy the exhibit in several places in Sapporo Campus ーthe Museum, Seicomart, the Information Center, the Centennial Hall, the Create Research Institution Building. Also, the data is open source from HUSCAP, Hokkaido University Collection of Scholarly and Academic Papers (download here). Please use it in various situations.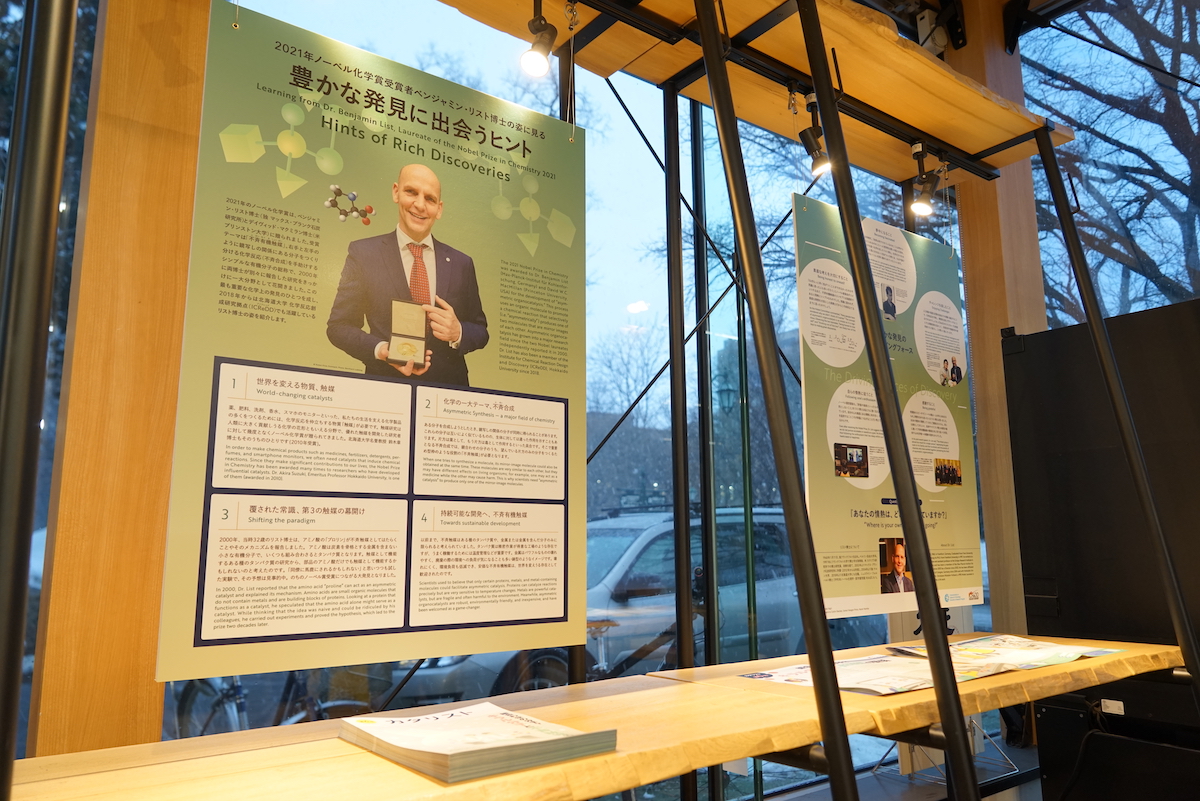 2021年ノーベル化学賞受賞者ベンジャミン・リスト博士の姿に見る
豊かな発見に出会うヒント
公開:2022年3月28日
制作:北海道大学 CoSTEP、WPI-ICReDD、広報課 学術国際広報担当
企画・執筆:梶井 宏樹(CoSTEP)
英訳:コリン・ステッカー(WPI-ICReDD)
ピント・ソハイル・キーガン、南波 直樹(広報課)
協力:ベンジャミン・リスト(マックス・プランク石炭研究所/ケルン大学/北海道大学)
辻 信弥(WPI-ICReDD リストグループ)
サイズ:A1
言語:日本語 / 英語
備考:このポスターは、文部科学省補助事業「研究大学強化促進事業」の取組みの一環として制作しました。
Learning from Dr. Benjamin List, Laureate of the Nobel Prize in Chemistry 2021
Hints of Rich Discoveries
Release date: 2022/03/28
Produced by: Hokkaido University CoSTEP, WPI-ICReDD, Public Relations Division
Planner / Writer: Hiroki Kajii (CoSTEP)
Translator (English): Collin Stecker (WPI-ICReDD),
Sohai Keegan Pinto, Naoki Namba (Public Relations Division)
Supported by: Benjamin List (Max-Planck-Institut für Kohlenforschung / University of Cologne / Hokkaido University), Nobuya Tusji (List's research group at WPI-ICReDD)
Languages: Japanese / English
Size:A1
Funded by: The program for promoting the enhancement of research universities (Ministry of Education, Culture, Sports, Science and Technology)